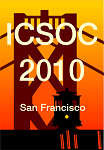 The Eighth International Conference on Service Oriented Computing

December 7-10, 2010, San Francisco, California
Accepted Demos
Marie-Christine Fauvet, Marcello La Rosa, Mehrad Agha Seyed Sadegh, Abdurrahman Alshareef, Remco Dijkman, Luciano Garcıa-Ba˜nuelos, Hajo Reijers, Wil van der Aalst, Marlon Dumas and Jan Mendling. Managing process model collections with AProMoRe.
Ingo Weber, Hye-Young Paik, Boualem Benatallah, Corren Vorwerk, Zifei Gong, Liangliang Zheng and Sung Wook Kim. Managing Long-tail Processes Using FormSys.
Athman Bouguettaya, Shiping Chen, Dongxi Liu, Qing Liu, Surya Nepal, Wanita Sherchan, Jemma Wu and Xuan Zhou. Managing Web Services: An Application in Bioinformatics.
Aliaksandr Birukou, Agnieszka Betkowska Cavalcante, Fabio Casati, Soudip Roy Chowdhury, Vincenzo D'Andrea, Frank Leymann, Ernst Oberortner, Jacek Serafinski, Patrícia Silveira, Steve Strauch and Marek Tluczek. An integrated solution for runtime compliance governance in SOA.
Jovan Stevovic, Annamaria Chiasera, Giampaolo Armellin, Tefo James Toai, Dario Betti, Fabio Casati and Gloria Martinez. Event-driven privacy aware infrastructure for social and health systems interoperability: CSS platform.
Luciano Baresi and Sam Guinea. Mashups with Mashlight.
Nelly Schuster, Raffael Stein, Christian Zirpins and Stefan Tai. A Service Mashup Tool for Open Document Collaboration.
Daniele Braga, Francesco Corcoglioniti, Michael Grossniklaus and Salvatore Vadacca. Panta Rhei: Optimized and Ranked Data Processing over Heterogeneous Sources.
Dwi Rahayu, Shonali Krishnaswamy, Cyril Labbe and Oshadi Alahakoon. RnR: A System for Extracting Rationale from Online Reviews and Ratings.
Van Munin Chhieng, Marcos Baez, Boualem Benaltallah, Fabio Casati, Alejandro Mussi and Qamal Satyaputra. Liquid Course Artifacts Software Platform.
Lukasz Juszczyk and Schahram Dustdar. A Programmble Fault Injection Testbed Generator for SOA.
Mirko Sonntag and Dimka Karastoyanova. BPEL'n'Aspects&Compensation: Adapted Service Orchestration Logic and its Compensation Using Aspects.
Ehsan Warriach, Eirini Kaldeli, Jaap Bresser, Alexander Lazovik and Marco Aiello. A tool for integrating pervasive services and simulating their composition.
Mirko Sonntag, Dimka Karastoyanova and Ewa Deelman. BPEL4Pegasus: Combining Business and Scientific Workflows.